HeartSaver® Program Class
The American Heart Association's HeartSaver program is a set of courses designed to teach basic life support skills to individuals who may not work in the healthcare field but still need to be prepared to respond to medical emergencies. The program is designed for workplace training, community groups, and individuals who want to learn life-saving techniques.
The course we teach is the most complete course available. The HeartSaver Pediatric First Aid CPR AED course focuses on medical emergencies that may occur in adults, children and infants. It covers CPR, AED use, choking relief, as well as pediatric first aid.
The courses in the HeartSaver program are typically taught in a classroom setting and include both instruction and hands-on skills practice. Upon successful completion of a course, participants receive an American Heart Association certification card that is valid for two years.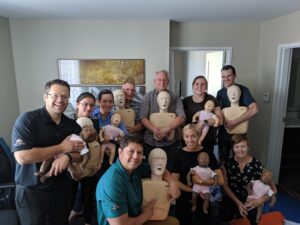 Class Information
Class Duration
New courses are 3-4 hours. Re-certification can be completed in 2-4 hours.
Class Size
Although classes can be as small as two (2) students, a ten (10) student minimum charge will be applied for all classes. We can teach multiple classes in a single location each day, but in order to maintain our 2:1 student-to-manikin ratio, must cap each class at 50 students.
Location
We will come to the location of your choice along the Wasatch front. Travel expenses can be negotiated for distances greater than 50 miles from Riverton, Utah. Facilities must have adequate space to allow for necessary hands-on practice.
Cost
$65 per student. A ten (10) student ($650) minimum charge will be applied for all classes. Discounts are available for returning clients. School Faculty and Staff will receive a $5 discount pp.
What Our Students Say About the HeartSaver® Class
Riverton High School has used Advanced CPR Training LLC for 20 years to certify our Sports Medicine, Introduction to Health Science, and Consumer Health Students accommodation of up to 4 classes at one time. They are very professional in their delivery and handling a large group of students, providing a two student to one manikin ratio for great hands on practice. We tried another group once, but we went right back to Advanced CPR for all our CPR/AED training needs. The best part is they come to you and work around whatever crazy assembly or lunch schedule your school may have. To me personally, this is a very important skill to have- and I would highly recommend Advanced to everyone needing to know and learn this skill!
---
Additional Classes